myHummy myBunny grey - humming cuddly toy rabbit for children
The humming rabbit toy is a perfect assistant in falling asleep. The bunny is soft, nice and friendly! It reproduces as many as 5 types of special humming noises to better adapt to the sleeping needs of the little ones. Newborns and infants calm down faster and fall asleep to the noises, because they associate them with sounds from their mother's tummy. They feel calm, safe and fall asleep easily.
My bunny is available in 3 versions of the sound device. All functions of the humming device are listed in the table below.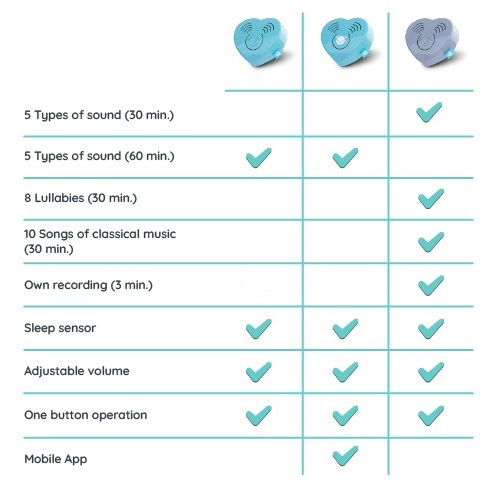 The rabbit cuddly toy is made of certified materials that are safe from the first days of a child's life.
myHummy myBunny, like all myHummy products, is made in Europe, in our sewing factory in Poland.
The toy bunny can be washed in a washing machine after removing the humming device (at 40 degrees of Celsius).
Details:
The height of the plush toy: 17 cm

The width of the plush toy: 15 cm

made of: 90% Polyester, 10% Cotton

Three AAA batteries required  - not included in the set
Why does myHummy help babies fall asleep?
Is myHummy appropriate for any age?
How does the app work?
Can myHummy be washed?
How much noise does myHummy have?
Can you control two different Bluetooth devices via the app simultaneously?
Unfortunately, you are unable to control two myHummy bears from the same phone simultaneously. You can however pair each of them successively with your phone in order to control their settings. 
How long does myHummy play sounds for?
myHummy plays sounds for 60 minutes and then gradually fades out. After that, the models featuring the Sleep Sensor go into stand-by mode in which the sound comes on again if the baby starts to stir or if there is an increase in background noise. 
Each of our Big Bears comes with something speacial

Plush pouch 
Plush pouch for the humming heart ,
Very light and super handy when on the move.
All of our muHummies comes with

Teether - Pendant 
Useful teether for a toddler
and at the same time practical
pendant for a teddy bear or plush heart.
Friendly features:

5 types of sound
Each myHummy emits 5 sounds: white noise, pink noise, ocean sound, rain and fetal waters with heartbeats.

Sleep sensor
The Sleep Sensor watches over your baby's sleep.
The sound comes on if baby starts to stir or if there is an increase in the background noise.
This function is available on selected models.

Non-Stop mode
12 hour non-stop mode - for those babies
who need constant white noise to stay asleep. 
This function is available on selected models

Adjustable volume
The mechanism allows a choice of noise level
and remembers the last setting.

60 min noise

The sound fades out after 60 minutes
without waking a sleeping baby.

One button operation 
myHummy heart is very convenient and easy to use
- all functions are avaialble at the touch of 1 button

0+ Safe to use 
Very safe since birth,
hand made with certified materials.
Mashine washable.
MyHummy bears are machine washable in tempreture 40'C 
Please remove humming heart prior to placing bear into the washer.

Made in Poland
myHummies are completely made in Poland/ European Union