myHummy Sophie - a humming white noise teddy bear sleep aid
Sophie - myHummy white noise teddy bear - a soft and sweet baby's friend. It has a humming heart sound device that will quickly lull the newborn to sleep. Why? Because babies heard similar sounds in their mother's tummy, which is why they like to fall sleep listening to them. The white and pink noises are safe for the baby as of first days of  life.
The humming teddy bear Sophie will quickly become the baby's first friend. It is soft, kind and super sweet.
myHummy teddy bear Sophie not only hums but also can sing lullabies and play beautiful pieces by Mozart.
After choosing myHummy the humming bear design, select also one of the 3 sound devices - see the table below to see what each of them can do.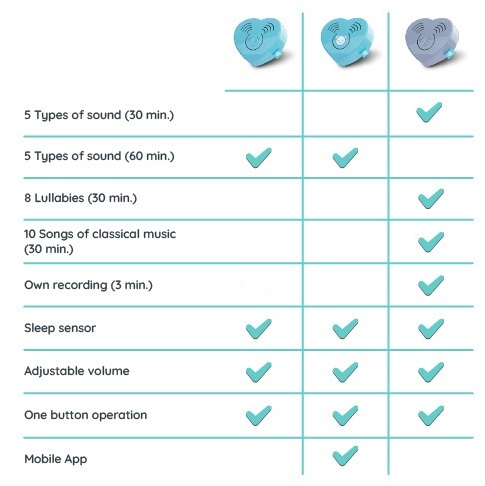 You can cuddle with Sophie humming teddy bear in the crib, but also hang it comfortably and take it with you everywhere thanks to the practical pendant.
Sophie is made of materials that are safe from the first days of a child's life. It can be safely machine washed at 40 degrees of Celsius (after removing the sound device)
All myHummy teddy bears are 100% produced in Poland. We sew our humming teddy bears in our own sewing factory.
 Details:
The height of the mascot: 31 cm

The width of the mascot: 13 cm

Mascot composition: 90% Polyester, 10% Cotton
NO LIGHT = BETTER SLEEP! 
Do you know that children should not sleep with the light on?
Even in the weakest light can adversely affect their eyesight. The eye, receiving the stimulus in the form of light, does not rest at night and develops in unfavorable conditions.
Even soft light can disturb the satiety hormone. That is why it is so important to get our baby used to sleeping in the dark.
Why does myHummy help babies fall asleep?
Is myHummy appropriate for any age?
How does the app work?
Can myHummy be washed?
How much noise does myHummy have?
Can you control two different Bluetooth devices via the app simultaneously?
Unfortunately, you are unable to control two myHummy bears from the same phone simultaneously. You can however pair each of them successively with your phone in order to control their settings. 
How long does myHummy play sounds for?
myHummy plays sounds for 60 minutes and then gradually fades out. After that, the models featuring the Sleep Sensor go into stand-by mode in which the sound comes on again if the baby starts to stir or if there is an increase in background noise.