myHummy Snoozy - pink
Snoozy's humming sound device is waiting to lull your baby to sleep. It is the newborn's first friend and parent's great sleep helper. It will quickly calm your toddler and help him fall asleep peacefully.
Like all myHummy sleep aids, it emits 5 different types of white and pink noise.
Newborns and infants know the sounds from their mother's womb - this is the sound they heard for many months before birth. That is why during the first months of their lives they fall asleep so easily to the sounds as they associate it with safety and warmth from their mother's tummy. The sounds, white and pink noise, calm the little ones down and help them fall asleep faster.
myhummy sleepyhead not only hums - it can also sing lullabies and play beautiful songs of Mozart. Perfect from birth through the next stages of child's development - both to sleep and to calm down after a day full of activities.
After choosing myHummy Mini colour, select also one of the 4 sound devices:
-        myHummy Mini Sleep Sensor
-        myHummy Mini 3-in-1
 Check the table below to see what each of them can do.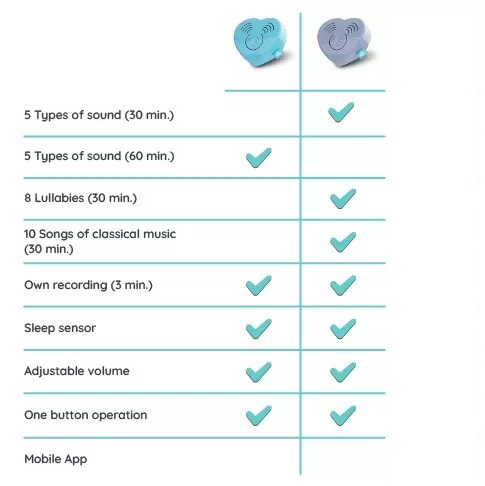 myhummy snoozy bear has an additional practical teether hanger, thanks to which it can be conveniently hung in baby's bed or taken with you attached to a pram or car seat.
The humming Snoozy bear is made of certified materials, safe even for the youngest children. The mascot can be machine washed after removing the sound device from the inside (at 40 degrees of Celsius).
Details:
Approx. size: 25 x 13 cm

Mascot composition: 90% Polyester, 10% Cotton

Three AAA batteries required - not included in the set.
NO LIGHT = BETTER SLEEP! 
Do you know that children should not sleep with the light on?
Even in the weakest light can adversely affect their eyesight. The eye, receiving the stimulus in the form of light, does not rest at night and develops in unfavorable conditions.
Even soft light can disturb the satiety hormone. That is why it is so important to get our baby used to sleeping in the dark.
All myHummy toys are machine washable.
Suitable from birth.
Made in EU.

Approx size: 25 x 13 cm (10 x 5 in) 
Three AAA batteries (not included) are required to operate the humming mechanism.
Why does myHummy help babies fall asleep?
Is myHummy appropriate for any age?
How does the app work?
Can myHummy be washed?
How much noise does myHummy have?
Can you control two different Bluetooth devices via the app simultaneously?
Unfortunately, you are unable to control two myHummy bears from the same phone simultaneously. You can however pair each of them successively with your phone in order to control their settings. 
How long does myHummy play sounds for?
myHummy plays sounds for 60 minutes and then gradually fades out. After that, the models featuring the Sleep Sensor go into stand-by mode in which the sound comes on again if the baby starts to stir or if there is an increase in background noise.